My Thanksgiving break was both fun and full of rest. I used a couple of the days to just unplug and rest my brain. The stress of dealing with a bus load of kids and daily traffic has a way of wearing on a person. The break was a welcome one.
The food was plentiful and spending time with the kids was great too.
Dakota on Thanksgiving day...
The grandsons all had colds and drippy noses. Dayton is cutting molars so he's especially drippy. Isn't he cute all snotty and red!???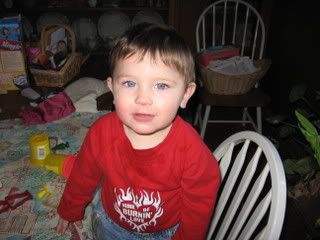 Jacob loves girls and has a crush on one of Liz's girlfriends. He also spent a lot of time with my son Tim's girlfriend Kristin on Thanksgiving day.. He's a smart boy, she can cook!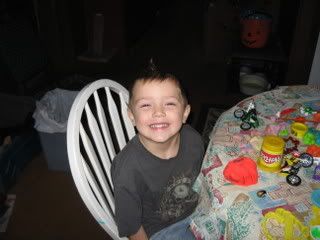 The boys came over Saturday night for a sleepover. I have been helping an older lady and she had asked me to come over Saturday night for a couple of hours. Mark stayed with the babies and even got them to put vicks on their throats. Kept them from coughing all night!
Sunday was a bit hairy as it's been freezing here, too cold to play at the park.
I only have three weeks until my Christmas break. I have been packing in as many extra hours as possible. Next week I have three extra trips.
Still planning a trip to Florida over break....so far so good....