My week last week ended on a worrisome note. While we finally got rid of our semi, and most of the bank note is paid, I also got a route for the rest of the summer and the route is easy and the pay is great...I received a letter from the Sec of State of Illinois that my 20 year old will have his drivers license suspended on June 29. Seems in Illinois young people 16 to 21 are only allowed two tickets in 24 months. I got on the phone promptly with my legal service and they told me what to tell him to do. AND believe it or not the kid did it! As a mother I am so tempted to do it for him...but he's a big boy and he needs to learn to take care of his own messes....it was difficult but I kept myself from going with him. He had a very helpful clerk tell him (on Monday) to come back Today and ask for supervision he did that. He ended up getting 6 months supervision and has to go to THE class. But then he had to drive the paper work 3 hours away to Springfield. So the boy grabbed his old friend from high school and went on a road trip...found out a while ago mission accomplished...they even stopped at some outlet mall on the way home... I trusted God and the court to be fair with my son, so hopefully he will slow down...he turns 21 in October then he can get 3 tickets in a year...and he still has to pay the huge insurance bills...ah the lessons we learn.
Also I would like to express my deep pride in my youngest....Elizabeth Faith!
She is leaving Friday morning for a mission trip in West Virginia with a church group...I am so very proud of this kid...we went to get shorts and such for her daily work this afternoon. First she is going on a white water raft trip ( she swims very well thankfully). Then they are driving to the camp. The sleep in a school, have devotionals daily. They group up with other churches and get to know new people....Of course Mike is going ...so is his father and younger brother..but it's a church group afterall...and it will be a wonderful lesson in being a good servant...
Here she is collecting ducks for the Prairie fest last week.. boyfriend's in the middle she's on the right...
.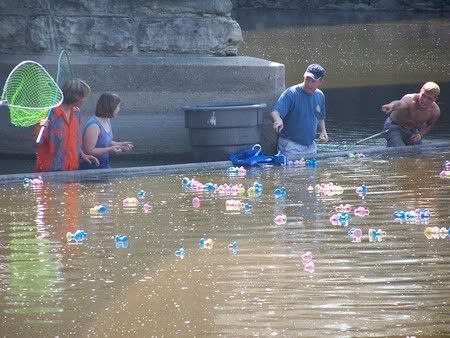 another shot they are on the left....Tomorrow is Jacob's 2nd birthday...we spent most of Sunday with him and this brother at my stepson's house. We went from the pool to the jacuzzi and back again! I bought him a kid's tool belt with play power tools and everything! I will take pictures and show off my little guy...who by the way calls me GRANDMA!!! It's enough to melt a girl!
Have a great day!!